Prioritable:
A Co-Creation Tool

Project: Service Design
Clients: Toshiba (in collaboration with Chiba University)
Project duration: 5 days
Contribution:
User Interview
Design Concept
Prototyping and Modelling
Workshop simulation







About the project

In the business community context, a service can be defined as a series of interactions between user and service provider that generate value, in a given period of time. Service design helps to build a bridge of understanding between what users need and seek to what service provider think is good and important. Toshiba has embraced UX Design and is starting to take a closer look at Service Design, particularly into co-creation approaches, such as tools and workshops between user and service provider. In one week workshop, KISD students collaborated with students from Chiba University to address this notion.


How can co-creation activities be designed in order to create a relevant value for the company?
Exploration

With Travel Agency as the service provider, we tried to identify identify the conflict between these two stakeholders. We figured out that in the age of technology, booking trips online are becoming an easy choice for tourists. As result, the needs for travel agency service has significantly decreased. Due to this changing user needs and desires, travel agencies need to improve their business to survive by addressing the most important value from user point of view, which is "trust".
Through discussions and mind mapping exercise, we selected several aspects of trust:
Brand: The image of service provider;
Clarity: How service provider communicates information;
Reliability: The ability to stick to assignment regardless the situation;
Security: How they guarantee the security and integrity of their customers;
Consistency: The ability to find the right balance;
Honesty: How sincere they run their businesses
Design Development

We decided to transform our analysis into a board game that could be played between the two actors as a medium for discussion. Moreover both stakeholders would have a consistent way to compare their result and thus help understand how a guest sees and expects different service's values. Later on we designed how the game should be played, the contents, and rules. It features three groups of card:
· Blue hexagonal, are the values relative to one service;
· Red hexagonal are the aspect of the specified value;
· Yellow triangular cards are the component of this aspect.

How It Works
The agent lays one value on the of the board.
The agent gives the guest aspect cards related to the chosen value. He places them in a decreasing order of importance.
The agent gives the third layer of card: the components. The participant chooses the ones he considers relevant for a given aspects.
The agent uses the final co-creation map to compare, discuss and find the gap of expectations.
The agent uses the component to create a customer journey map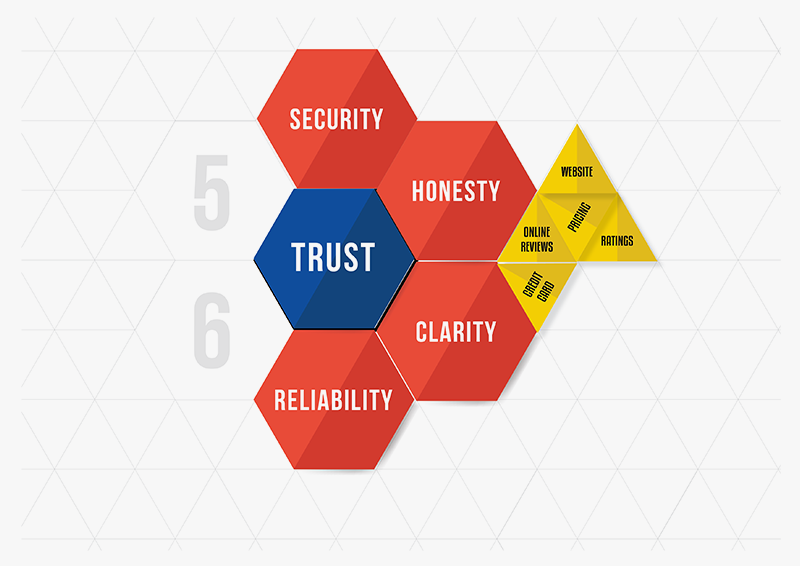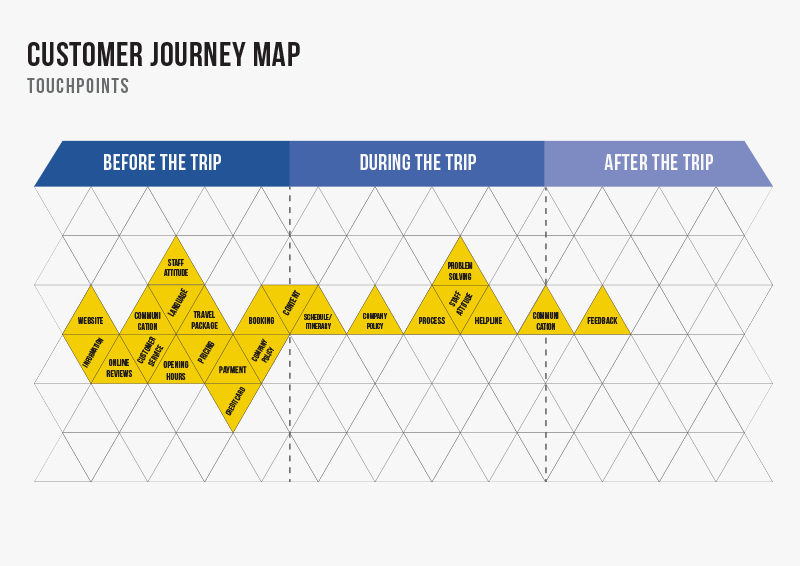 Finding


After a meaningful discussion and reflection, we found some interesting gap of expectations between user and travel agency as the service provider:

For a family tourist, security and reliability were the most important aspects of trust. It followed by different components that they perceived as touch points of mentioned aspects. This preference might change depending on the different target group. This insight would help service provider to accommodate different needs
We also discussed other interesting findings, such as, both user and service provider didn't see image or brand as important aspect of trust for different reasons; due to small scale of the company, the travel agency couldn't afford big marketing or fancy website while user think clarity of information and system were needed more than mere image.
Copyright 2018 - Anida Dyah