Project: Service Design
Clients: TRV - User Support
Project duration: 2 weeks
Team:
Service Designer
User Support Agent
Product Team
Contribution:
User Journey Mapping
Business Process Mapping
System Mapping
Data Visualisation
Visual Analysis






About the project
This project was set to identify on the as-is service delivery in User Support by conducting Service Design methods. The aim is to use the analysis to aid User Support strategy in building brand trust with their users as stated in the mission statement.
Approach
We conducted a
User Journey Workhop
with User Support agents to reflect collectively on the ongoing procedures, processes and touchpoints a hotel search user deals with when looking for help. The results were used to develop
Experience Map
and
Service Blueprints
as a holistic visualization that compiles and summaries information about the support system interaction.
By doing this we were able to:
Have an overview how a user reaches out to User Support and how is their journey from before until after services.
Identify the hannels and data related to each stage of user journey.
Define interrelations between Agent Services and Product Management processes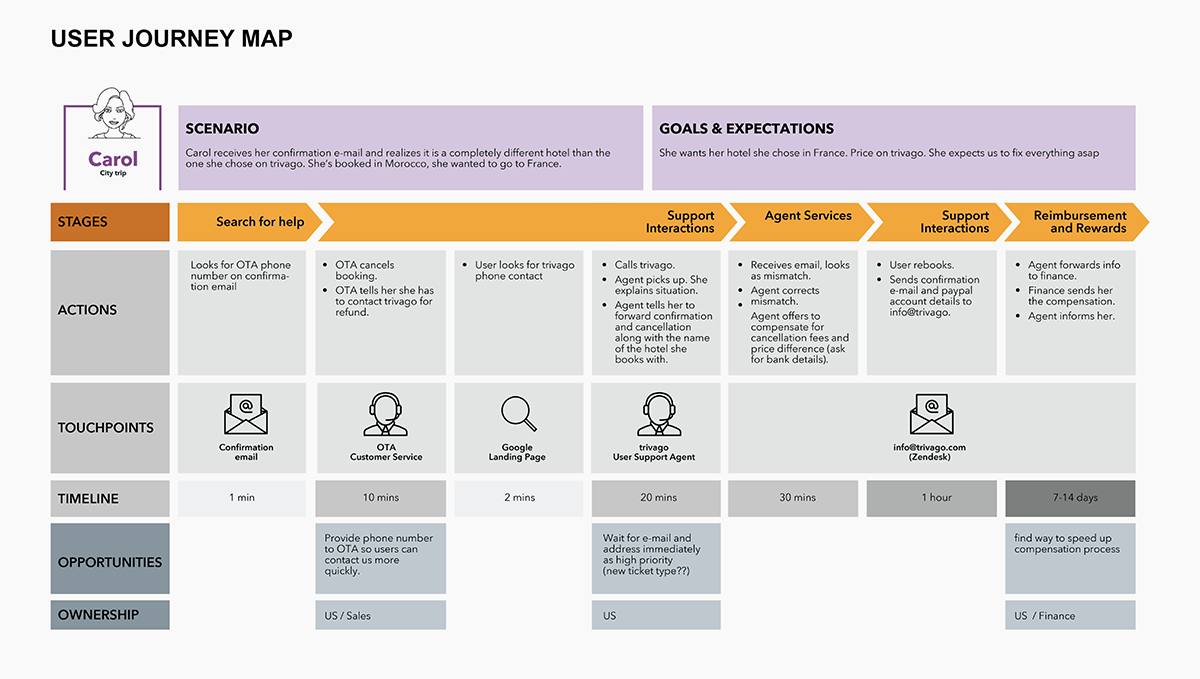 Uncover Patterns Using Data Visualization
Using trivago's power of proof principle, we also dig deep into Zendesk Gooddata and visualize it within the experience map to uncover patterns and pain points. By visualizing data we received, we can see how effective the services are in reducing users queries on each channels.


Copyright 2018 - Anida Dyah