Project:
Wayfinding and Signage
Location:
Nusa Dua Bali, Indonesia

Client
:
Starwood Hotels
Team:
DPC Design Pte. Ltd
Project duration:
2 years

Contribution:

Wayfinding Strategy
Signage Location Plan & Schedule
Concept Design & Development
About the project

St. Regis Bali is an award-winning five-star resort, featuring 79 luxurious suites, 42 private villas and two exclusive Residences. The challenge was to create a seamless and unique wayfinding system to guide visitors through the expansive high-end complex, and more importantly, to include a sense of character which connects the property with the natural sense of place and Balinese culture. Signage design should be integrated and above all, compliment the landscape and interior design.


Design Approach


The aim was to elevate the resort to a new level of timelessness using rich metals and classic design. By using natural colours and crafted graphic patterns inspired by local plant, carving and sea wave, we want guests to feel surrounded by understated beauty from the moment of arrival to their time of departure.

Material choice was aluminium with oven baked powder coated with its green technology and sustainability, while graphic patterns inspired by carved limestone used throughout the property. Matric system was used when applying them alongside Guest Room Numbers. Texts and patterns cut thru to reveal back panel. For external signage, we added lighting effect for legibility purpose and to enhance the design.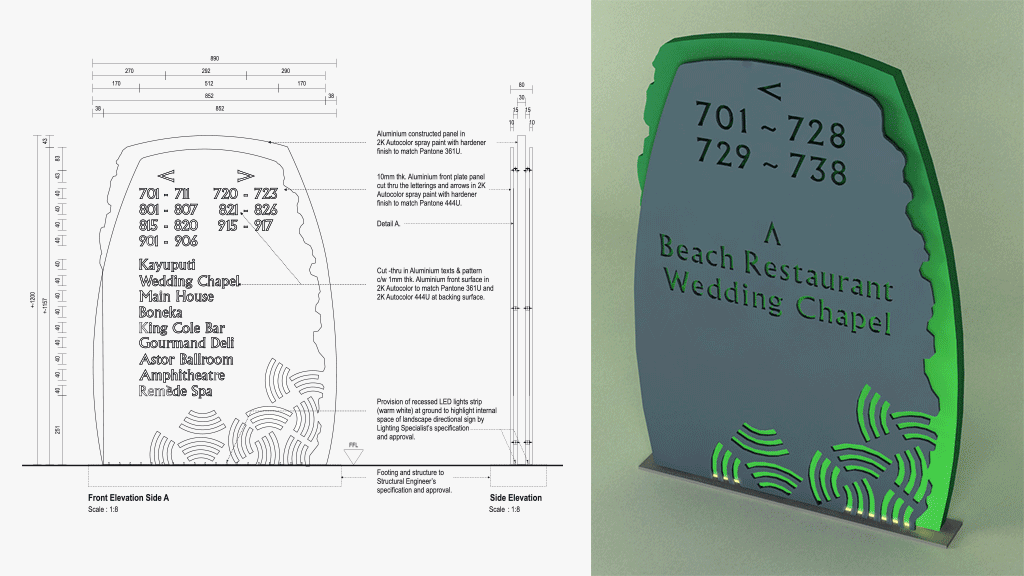 Copyright: DPC Design Pte. Ltd


Copyright 2018 - Anida Dyah